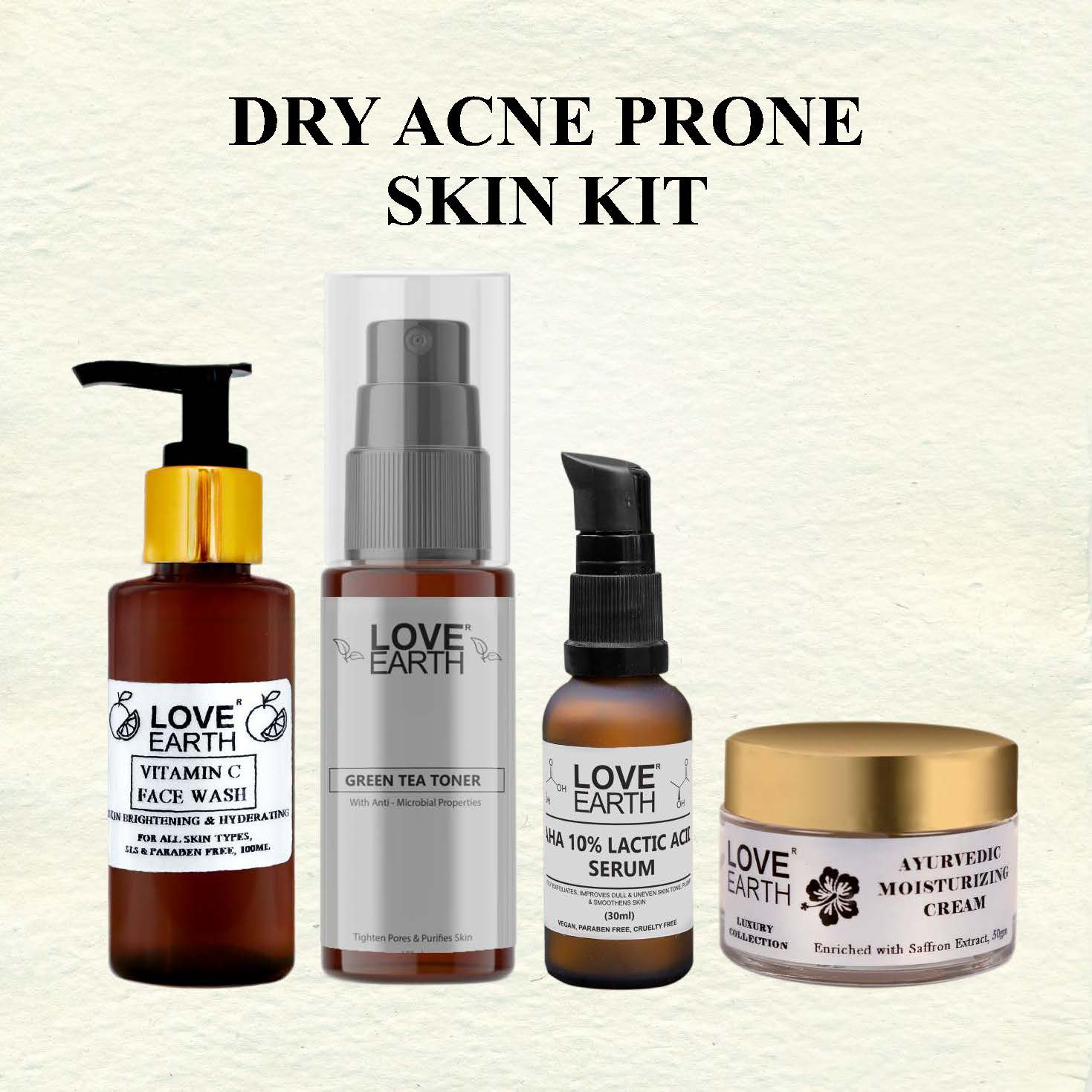 DRY ACNE PRONE SKIN KIT
Sale price

Rs. 1,050.00
Regular price

Rs. 1,896.00
(/)
---
LOVE EARTH DRY ACNE-PRONE SKIN KIT FOR SKIN HYDRATION, ACNE, RADIANCE AND REDUCES INFLAMMATION

DESCRIPTION
Vitamin C face wash-With our Love Earth Vitamin C Face Wash, you now have a way to get clean and youthful skin. It has the benefits of pure vitamin C, ashwagandha extracts, and aloe vera extracts. If you have normal to dry skin then this face wash will work wonders for you.
Green tea Toner - Freshness isn't enough. This product makes it more interesting! Go for this green tea toner which is easy to carry, an instant face mist that not only cools down your skin but also refreshes you up with a boost and revitalizes your skin for all those moments throughout the day when you need instant freshness on the go. Green tea, grape seed, hydrogenated castor oil extracts along with perfume and DM water are rich in antioxidants, minerals, and acne-fighting components, making this refreshing face mist ideal for combination and oily skin.
Lactic acid Serum- Lactic acid is among the most often used alpha hydroxy acids. Glycolic Acid is gentler and less moisturizing than this. Lactic acid is used to treat hyperpigmentation, age spots, and other conditions that cause a dull and uneven complexion. It promotes collagen regrowth and can help to decrease the indications of ageing.
Ayurvedic Moisturizing Cream-  Love Earth Ayurvedic Moisturizing Cream is here and it is absolutely fantastic. Enriched with ayurvedic love our cream helps you with everything. our cream is suitable for all skin types. When applied, it hydrates and gives your skin the care it deserves. Like literally it does everything.
You can use it as a moisturizer. You can use it as a night cream, it actually does work a little better overnight as it has the actual sleeping time to get completely absorbed. 
INGREDIENTS
Vitamin C Face Wash
Aloe vera
Grapefruit
Ethyl Ascorbic Acid
Glycerine
Hydrogenated Castor Oil
Perfume
DM Water
Green Tea Toner
Grape Seed extracts
Green tea extracts
Glycerine
Hydrogenated Castor Oil
Perfume
DM Water
AHA % LACTIC ACID SERUM
Purified Water
Lactic Acid
Glycerin
Propylene Glycol
Sodium Hydroxide
Polysorbate 20
Hyaluronic Acid
Papain
PEG-40 Hydrogenated Castor Oil
Fragrance
Potassium Sorbate
Sodium Benzoate
Allantoin
Chlorphenesin
Disodium EDTA
Daucus Carota Sativa (Carrot) Root Extract
Tamari
AYURVEDIC MOISTURIZER CREAM
Extracts of Saffron, Usheera, Giloy, Patola, Licorice, Bilva, Shyonaka
Paraffin
Beeswax
Glycerine
Aloe Vera Extract
Wheat Germ Oil
Vitamine E
Almond Oil
Fragrance
Cream Base
GENTLE REMINDER
Just a friendly reminder, always and always do a patch test before including any new product in your skin. Just like behind your ears to check for any sort of allergy or irritation. But if you don't notice any reaction then the product is good to go and you have finally found a best friend for your skin.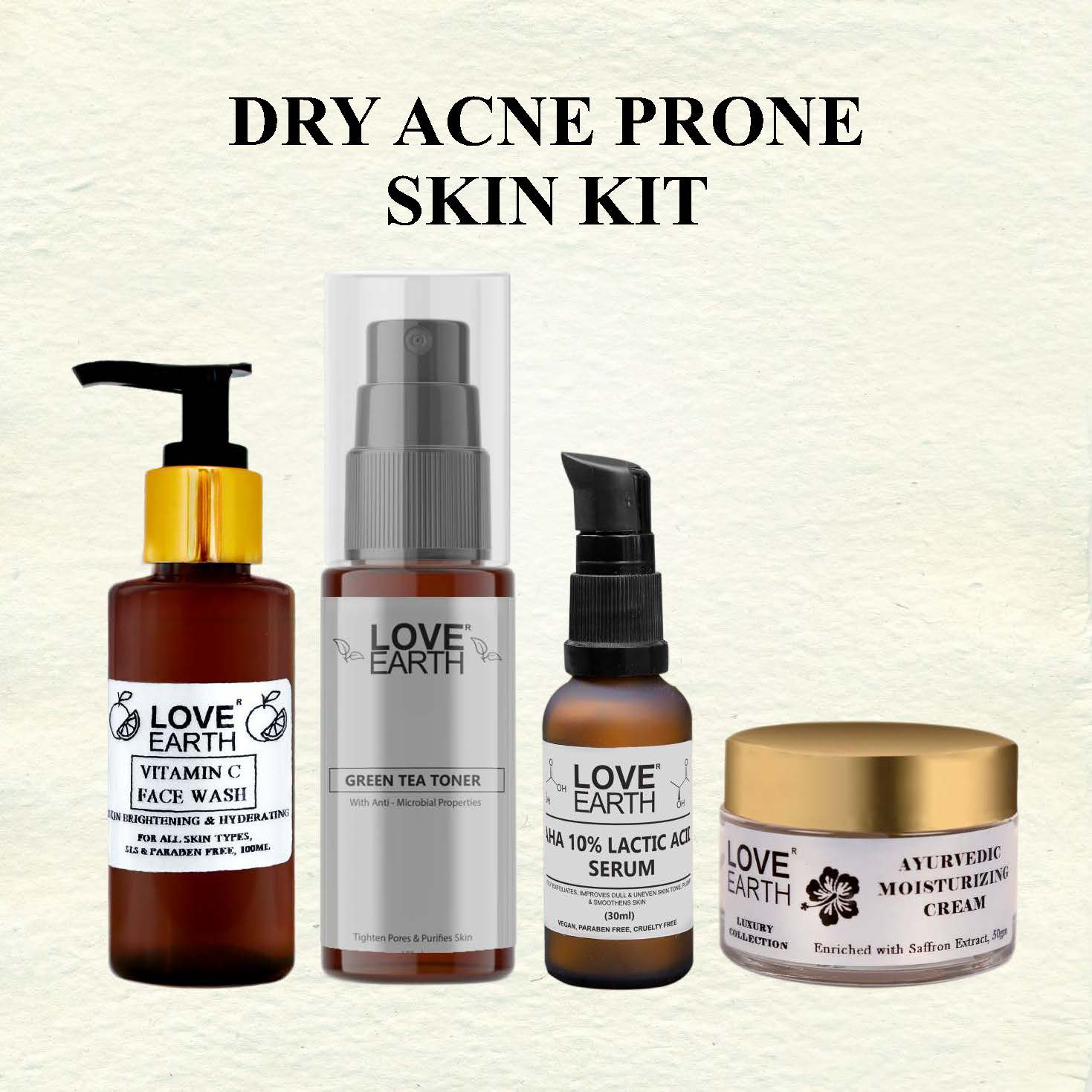 DRY ACNE PRONE SKIN KIT
Sale price

Rs. 1,050.00
Regular price

Rs. 1,896.00
Choose options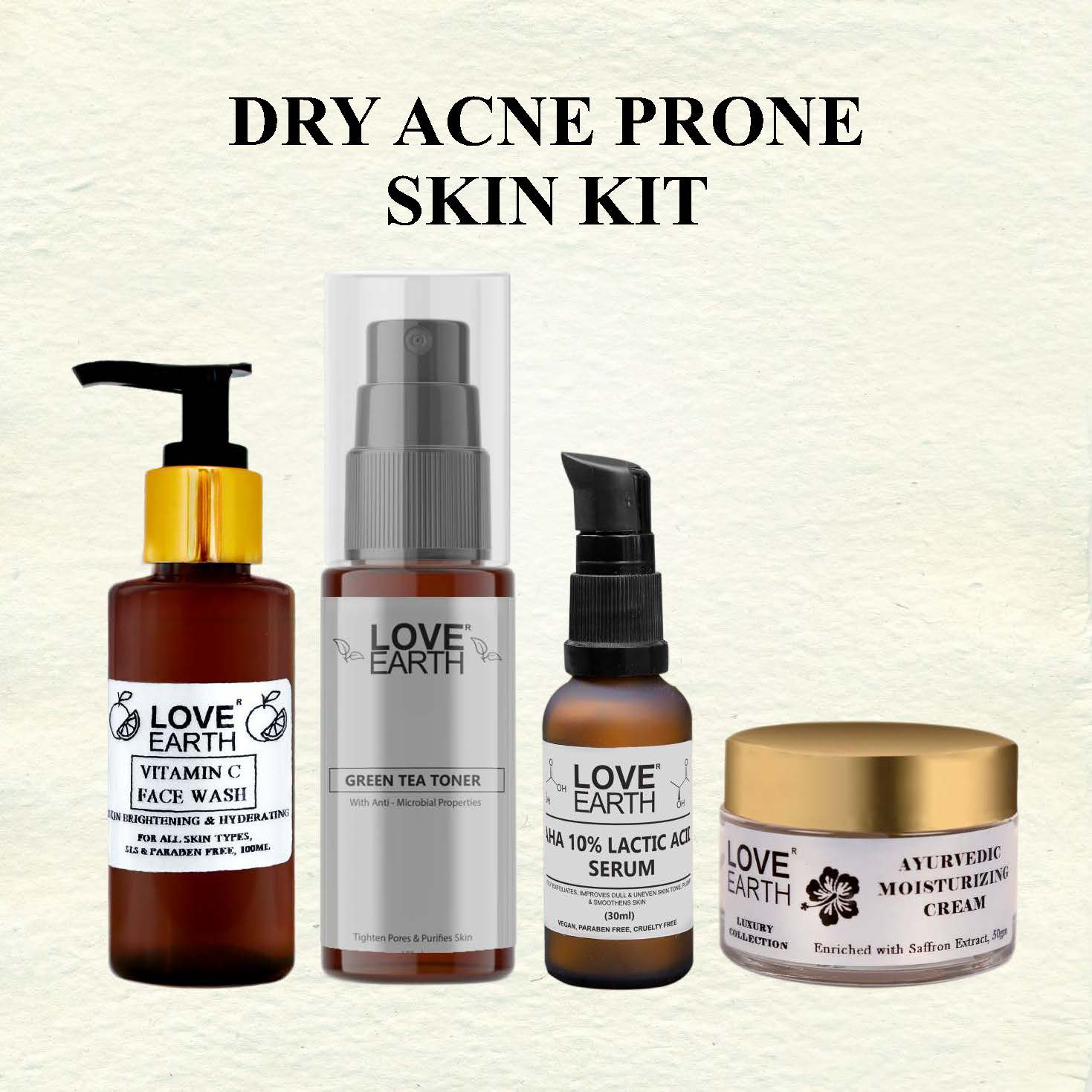 Sale price

Rs. 1,050.00
Regular price

Rs. 1,896.00
(/)
---
View details