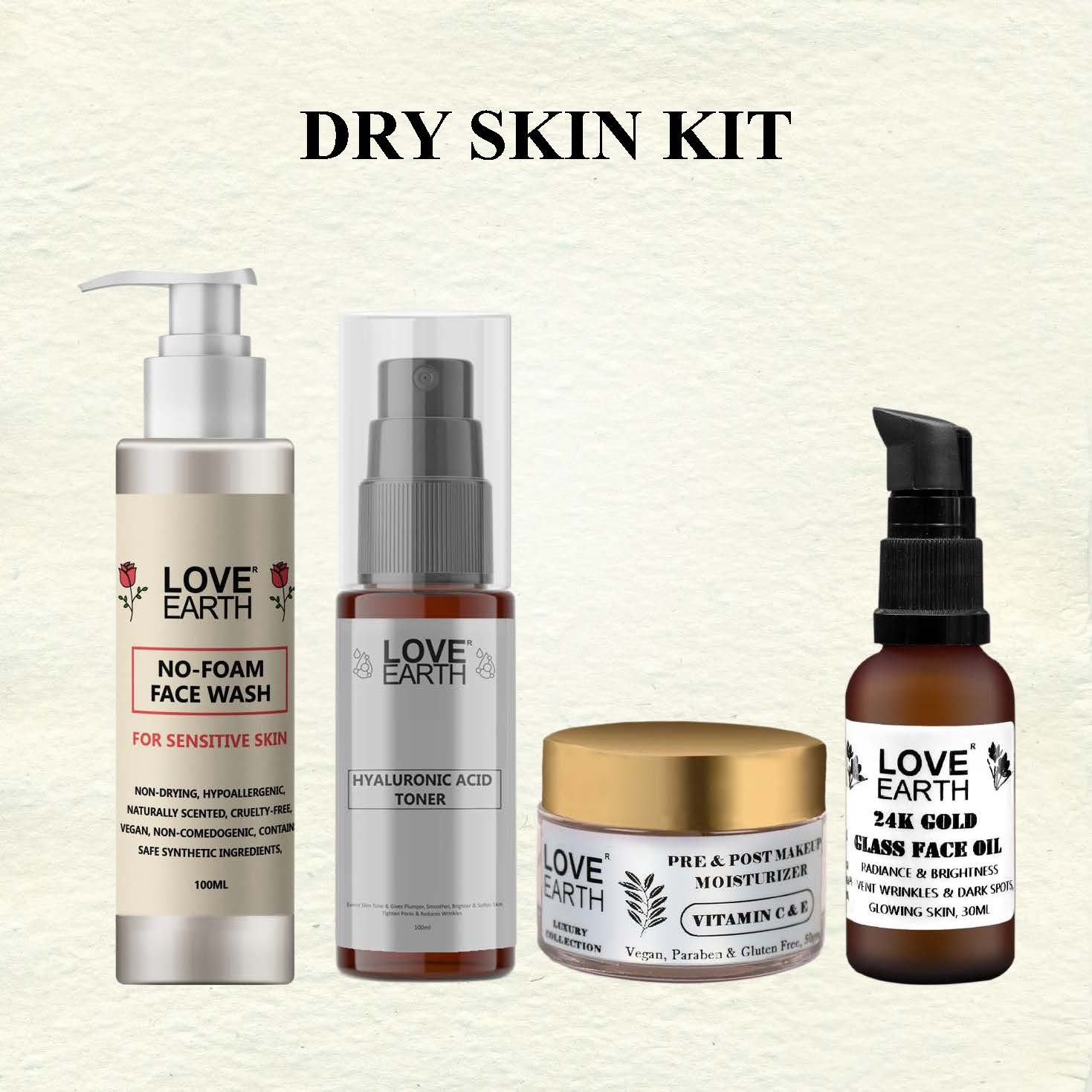 DRY SKIN KIT
Sale price

Rs. 940.00
Regular price

Rs. 1,796.00
(/)
---
LOVE EARTH DRY SKIN KIT FOR SKIN HYDRATION, ACNE, RADIANCE AND REDUCES INFLAMMATION 
DESCRIPTION
NO FOAM FACE WASH- You may now enjoy clean and healthy skin with our Love Earth No-foam Face Wash. It contains almond oil and vitamin C extracts, which are both beneficial for sensitive skin. This face wash will perform wonders for you if you have normal or sensitive skin. Believe us when we say that you will notice a change after the first wash. A product that looks like a milk moisturizer but works as a face wash without foam to cleanse away all the dirt from within.
HYALURONIC ACID TONER-Love Earth Hyaluronic acid is a moisture-binding humectant that hydrates skin and boosts collagen levels for a more youthful appearance. This toner boosts your skin's moisture retention, keeping you moisturized all day. It hydrates and tones your skin without robbing it of its natural oils. Hyaluronic acid toner gives an instant cooling sensation which works as an immediate stress buster for you.
PRE POST MAKEUP MOISTURIZER-LOVE EARTH'S PRE & POST MAKEUP MOISTURIZER is here to take care of that gorgeous skin of yours. It is free from any harmful chemicals and hence, safe to use. Enriched with the amazing Vitamin C and E, regular use of this gorgeous cream can help you achieve a brighter and even skin tone. It is there for you before you do your makeup. And it is thereafter the makeup. Any time you want. Our love is here for you in the form of our amazing moisturizer. 
24k GOLD GLASS FACE OIL- The Love Earth 24K Gold Glass Face Oil has been infused with the most organic and exquisite ingredients. As the name suggests our oil has been imbued with the authentic 24K gold that brings the most natural glow to your skin.
INGREDIENTS
NO FOAM FACE WASH
Aqua
Glycerin
Edta
Almond (prunus amygdalus dulcis) oil
Seatic acid
Glycerol monostearate
Cetyl alcohol
Vitamin-c (ascorbic acid) oil
vitamin E acetate,
Coconut (cocos nucifera) oil
Glycolic acid
Isododecane
Carbopol 940
Sodium ascorbyl phosphate
Aloe vera (aloe barbadensis) extract
Green tea (camellia sinensis leaf) extract
Iscaguard peg
Sodium hydroxide
HYALURONIC ACID TONER
Grape Seed extract
Glycerine
Allantoin
Hyaluronic Acid
Hydrogenated Castor oil
Perfume
DM Water
PRE & POST MAKEUP MOISTURIZER
AQUA
LEMON PEEL EXTRACT
GLYCERYL STEARYL CITRATE
CETO STEARYL ALCOHOL
OLIVE(OLEA EUROPAEA) OIL
JOJOBA (SIMMONDSIA CHINESIS) OIL
GLYCERIN
BUTYLENE GLYCOL
SODIUM ASCORBYL PHOSPHATE
SODIUM HYALURONIC ACID
VITAMIN E ACETATE
PHENOXY ETHANOL AND CAPRYL GLYCOL
FRAGRANCE/ESSENTIAL OIL.
24K GOLD GLASS FACE OIL
Jojoba Oil (Simmondsia Chinesis), Olive Oil (Olea Europea Oil), Walnut Oil (Juglans Regia), Sunflower Oil (Helianthus Annuus), Castor Oil (Ricinus Communis), Cyclomethicone, Ashwagandha (Withania somnifera), Orange Peel Extracts (Citrus Aurantium Dulcis), Aloe vera (Aloe Barbadensis), Lemon Peel Extracts ( Citrus Limon), Mulrthi (Liquorice), Saffron (Crocus Sativas), Vitamin E Oil, Grapeseed Oil (Vitis Vinifera), 24K Gold Flakes
GENTLE REMINDER
Just a friendly reminder, always and always do a patch test before including any new product in your skin. Just like behind your ears to check for any sort of allergy or irritation. But if you don't notice any reaction then the product is good to go and you have finally found a best friend for your skin.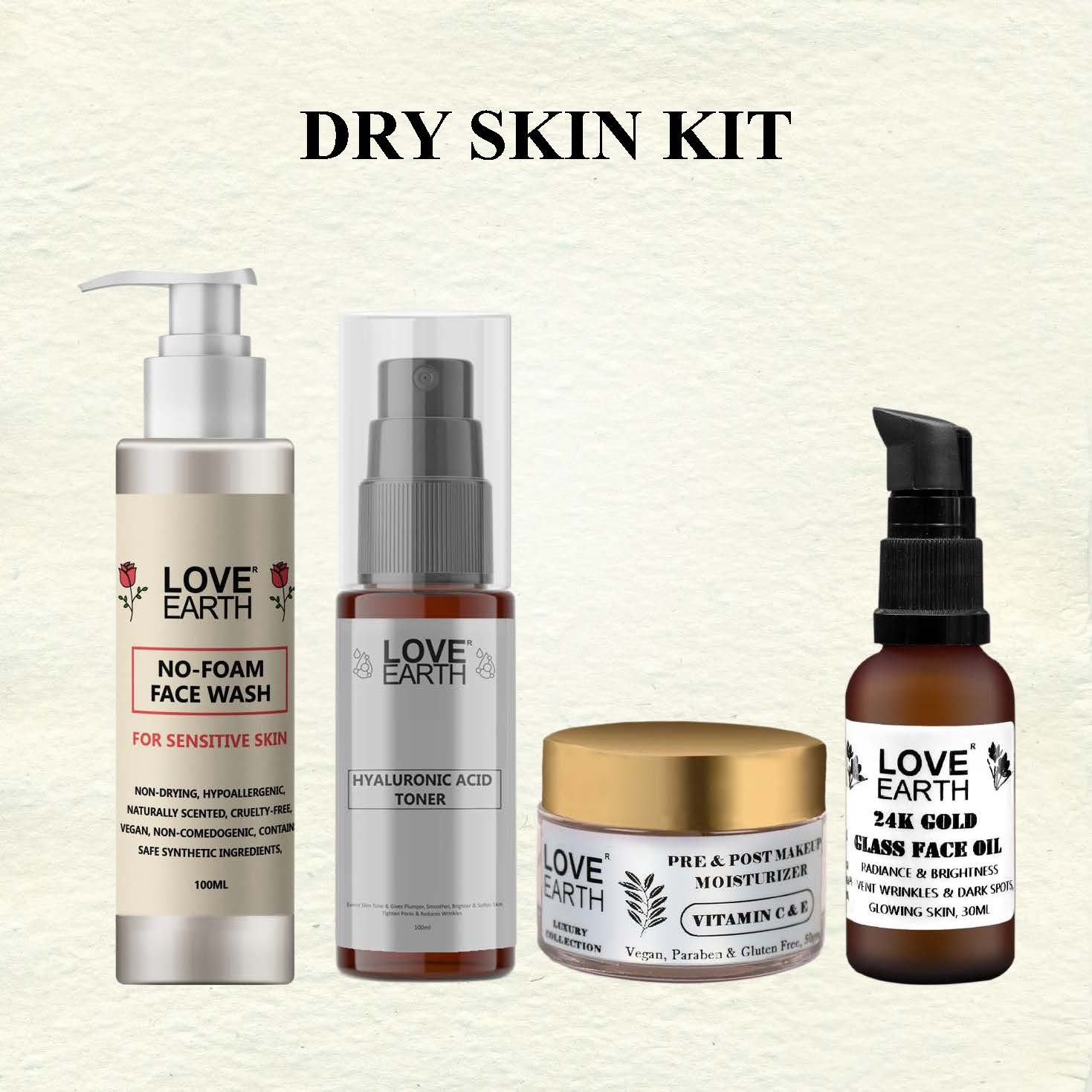 DRY SKIN KIT
Sale price

Rs. 940.00
Regular price

Rs. 1,796.00
Choose options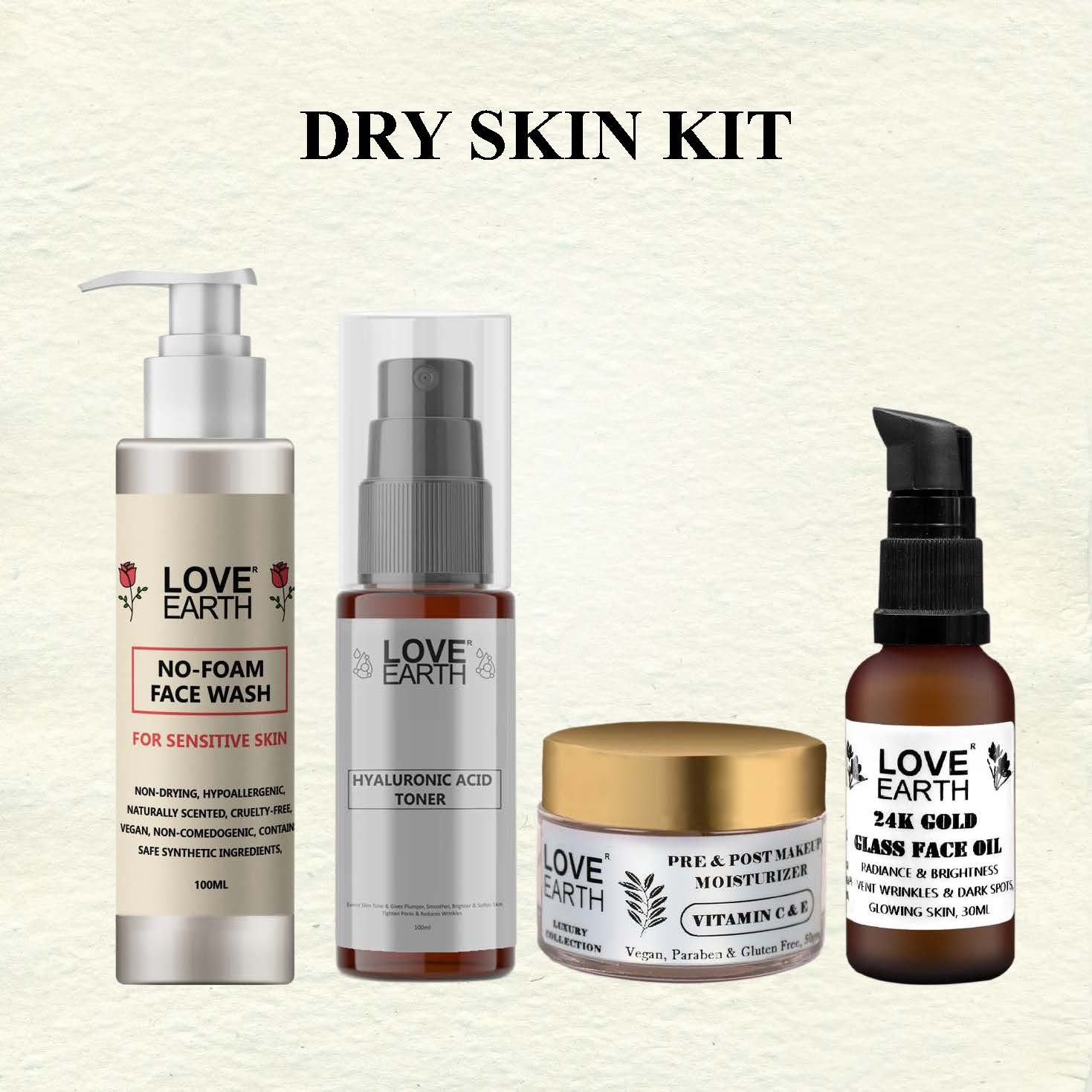 Sale price

Rs. 940.00
Regular price

Rs. 1,796.00
(/)
---
View details