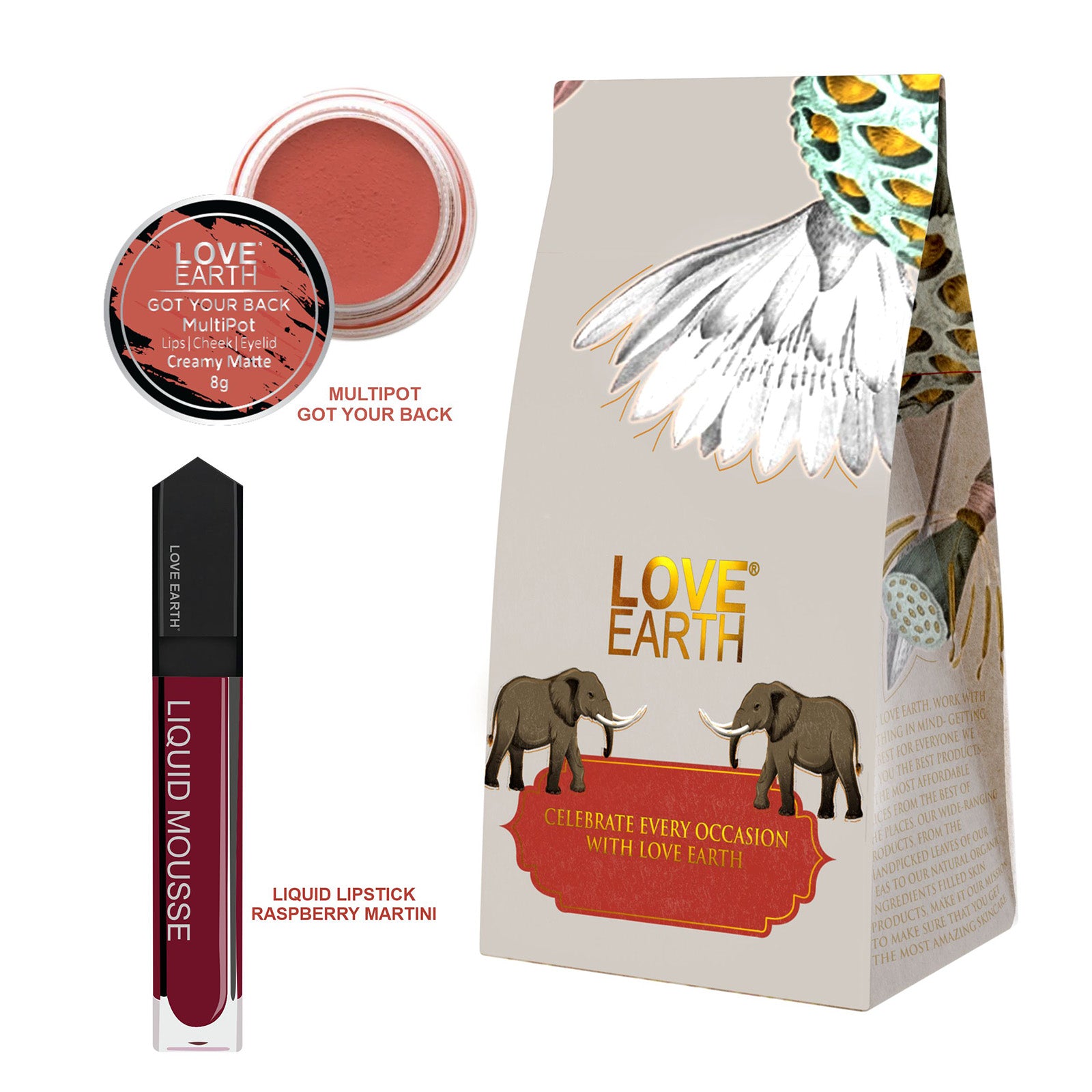 Lip And Cheek Tint Got Your Back & Liquid Lipstick Raspberry Martini Gift Pack
Sale price

Rs. 598.00
Regular price

Rs. 1,496.00
(/)
---
DESCRIPTION
A splash of colour and a spoonful of tenderness. The Love Earth Liquid Mousse Lipstick is not your typical liquid lipstick. Instead, it's rich in matte colour and made with the most nutritious natural components, including vitamin E and jojoba oil, brightening and moisturizing the lips. It's also Safe and guarantees that it is free of chemicals and will wrap you in colour, love, and care. It's a perfect match for every beautiful woman present around.                                                                                                                                                                                                                                                                                                                                                                                            How many of us have been in the middle of something during a working day or as an event and found ourselves looking for makeup that multitasks as we do? A tiny touch-up with our Love Earth multiport is here for you any time you need that instant gorgeous 
INGREDIENT
  Bees Wax
  Carnauba Wax
  Candelilla Wax
  Jojoba Oil
  Castor Oil
  Vitamin E
BENEFITS
The other regular tints are infused with synthetic chemicals like SLS, Parabens, silicones, petrochemicals, etc, that harm that gorgeous skin in the long run. But, our product is made with natural ingredients that will give you fierce nutritive benefits to those innermost layers of that glorious skin.                                                                                                                                                                                                                                                      This product is particularly rich in Vitamin E and Jojoba oil. It has all the products' best moisturizing, antimicrobial, and antioxidant characteristics. Let's talk about some more important benefits of Loveearth Liquid Mousse:                                                                                                                                                                                                                                                                                                                                                                                                                                                                                                                                                                                                                                                                                                                                                                                                                                                                    Lasts up to 12 hours
  Lightweight
  Filled with the natural goodness of Vitamin E and Jojoba Oil
  Lightweight & non-sticky formula
  100% vegan and free from cruelty
  Free from harmful chemicals and toxins
  Transfer proof
  Provides deep moisturization
  Highly pigmented
  Matte finish


DIRECTIONS
Since this is a multipurpose product, we have listed its multipurpose use below. Read through, Diva-
 
 
  For lips
 
  Start by taking a generous amount of our multi-pot on your finger and gently apply a layer on your lips.
 
 
  For cheeks
 
  Start with scooping some product onto your fingertips.
 
  Now apply that on those gorgeous cheeks and gently blend it along the cheekbones.
 
  You can add more layers if you'd like if you wish for a more intense shade.
 
 
  For eyelids
 
  Just take a generous amount of our multipot on your finger and gently apply a layer on your eyelids. Now blend to your desired need.
  Step 1: Begin by applying to the upper lip's centre.
  Step 2: Finish the outside edges.
  Step 3: On your bottom lip, apply a thin coating of liquid lipstick 2. O.
  Step 4: Lightly press your lips together to achieve uniform coverage.
  Step 5: Add another layer for added glitz.
  Step 6: Give the lipstick time to dry and see the magic!!


GENTLE REMINDER
Put-On Test - For the first time users,
always apply the product over 5cm²
of the skin on the inner elbow. If 24
hours later the skin is normal, and the
product may be used safely.
Caution: Avoid contact with eyes.
If this happens, rinse your eyes thoroughly
with water. In case of allergic reaction
or rash, discontinue the use of the product
and consult a physician.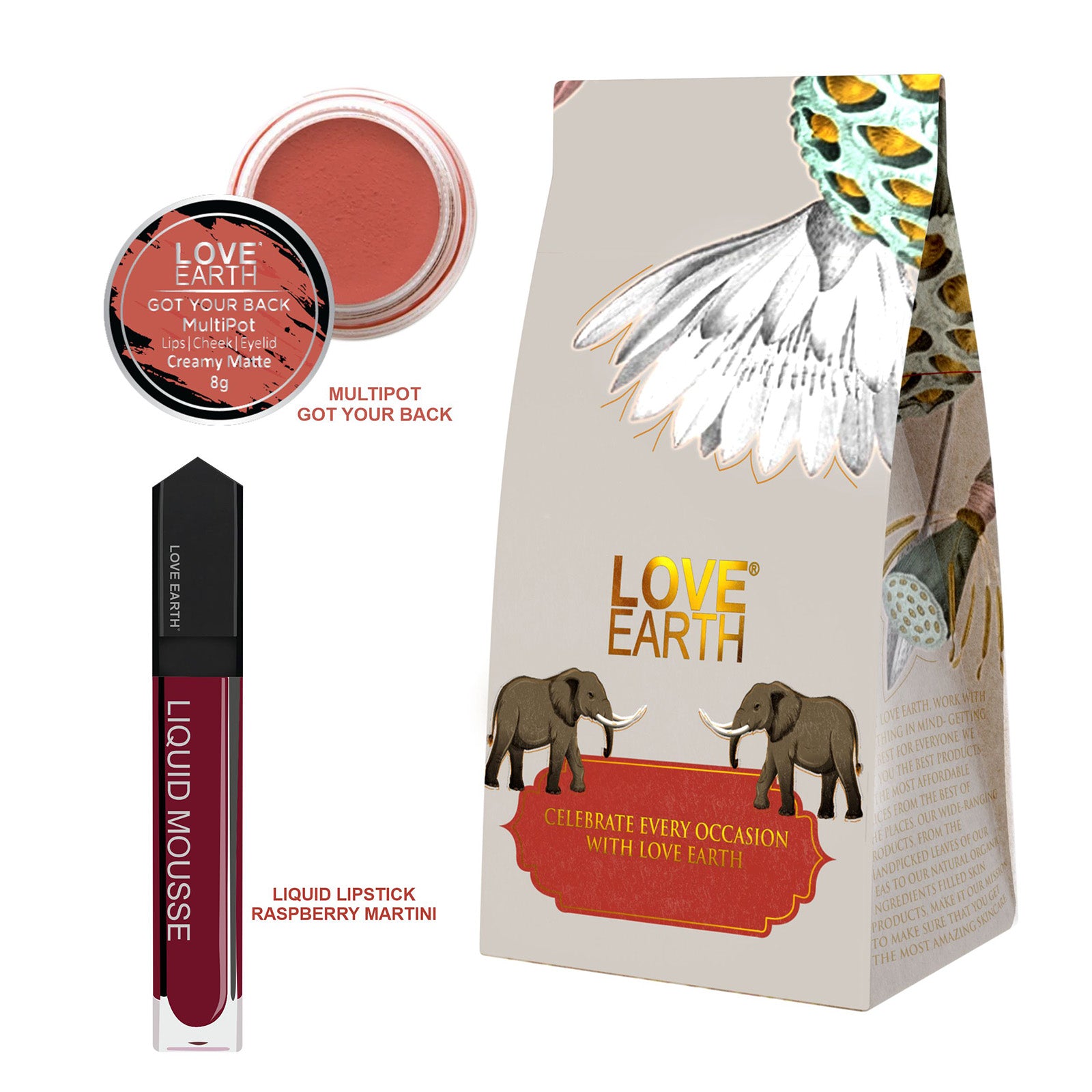 Lip And Cheek Tint Got Your Back & Liquid Lipstick Raspberry Martini Gift Pack
Sale price

Rs. 598.00
Regular price

Rs. 1,496.00
Choose options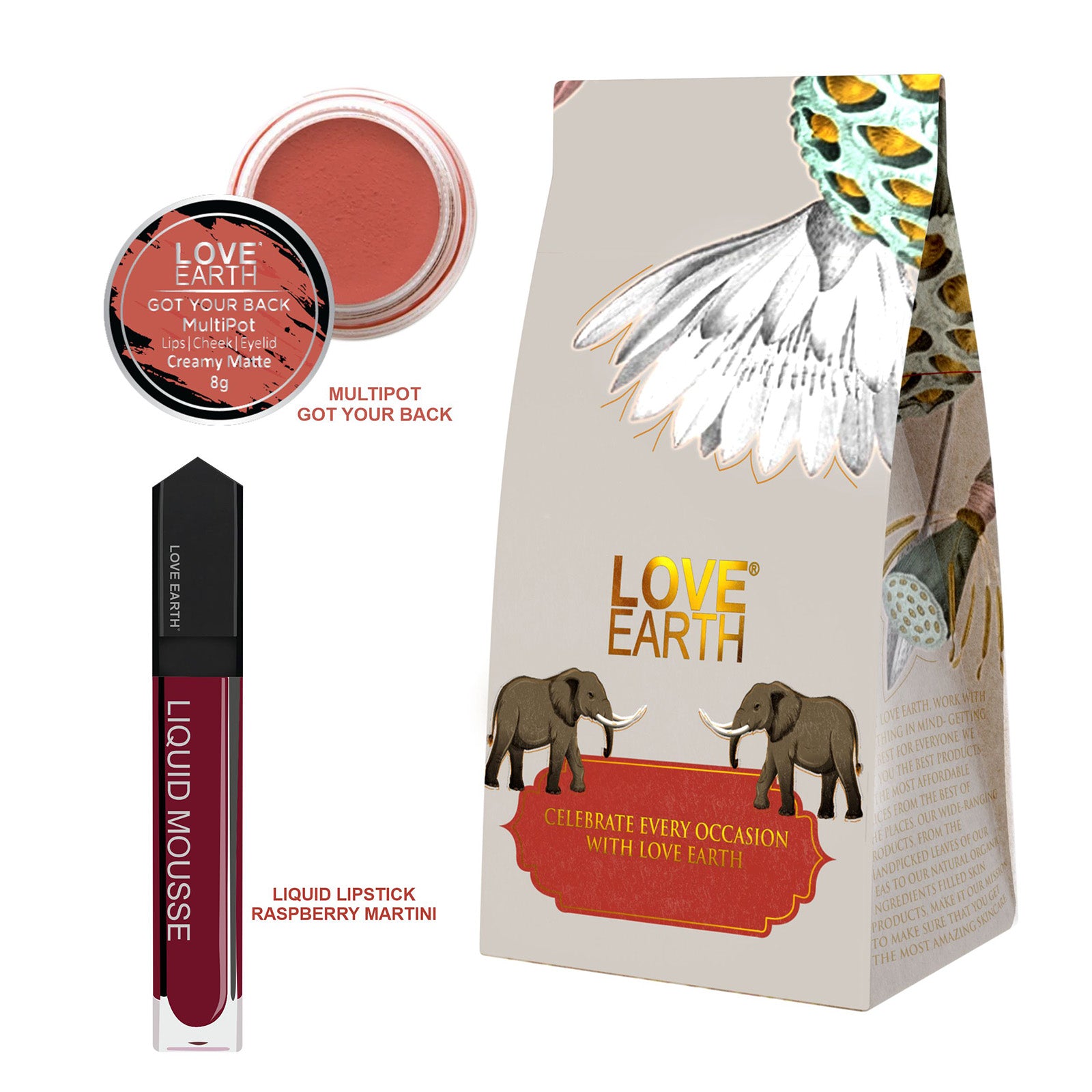 Sale price

Rs. 598.00
Regular price

Rs. 1,496.00
(/)
---
View details