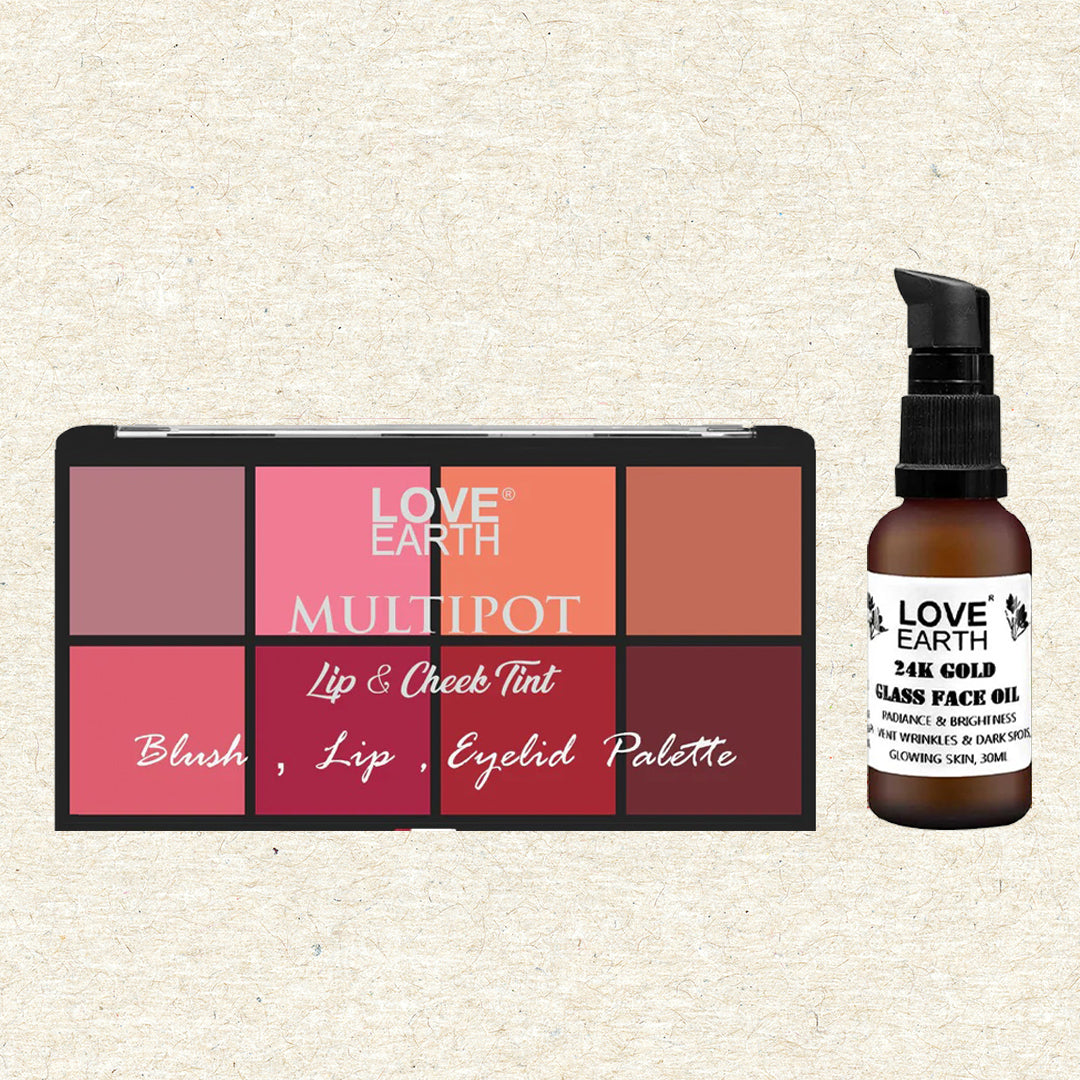 Love Earth 24K Gold Face Oil & Blush , Lips , Eyelid Palette
Sale price

Rs. 959.00
Regular price

Rs. 2,398.00
(/)
---
DESCRIPTION
Love Earth Multipot: Instant Beauty on the Go!

Unveil your inner diva with our versatile Blush, Lips, and Eyelids Palette. Its enchanting fragrance and quick touch-up capabilities make it your ideal partner for any occasion. This organic gem adds a radiant glow while keeping your skin hydrated. Get ready to shine without wasting time!

The Love Earth 24K Gold Glass Face Oil, enriched with authentic 24K gold, rejuvenates your skin. It combats dark circles, brightens dullness, and diminishes signs of ageing. Suitable for all ages and skin types, it's non-sticky, perfect for pre-makeup prep, daily moisturizing, or part of your nighttime routine. Glisten with nature's best!"
INGREDIENT
Jojoba Oil (Simmondsia Chinesis)
Olive Oil (Olea Europea Oil)
Walnut Oil (Juglans Regia)
Sunflower Oil (Helianthus Annuus)
Castor Oil (Ricinus Communis)
Cyclomethicone
Ashwagandha (Withania somnifera)
Orange Peel Extracts (Citrus Aurantium Dulcis)
Aloe vera (Aloe Barbadensis)
Lemon Peel Extracts (Citrus Limon)
Mulrthi (Liquorice)
Saffron (Crocus Sativas)
Vitamin E Oil
Grapeseed Oil (Vitis Vinifera)
24K Gold Flakes
Bees Wax
Carnauba Wax
Candelila Wax
Jojoba Oil
Castor Oil
Vitamin E
BENEFITS
Key Benefits of Love Earth's 24K Gold Glass Face Oil:

Natural Ingredients: Free from harmful synthetic chemicals like SLS, Parabens, silicones, and petrochemicals, this face oil is made with all-natural ingredients for healthier skin.

Deep Nourishment: The rich blend of natural ingredients, including Jojoba Oil, Olive Oil, Walnut Oil, and more, provides deep nourishment to your skin.

Anti-Ageing: Antioxidant-rich Olive Oil and Walnut Oil fight premature ageing and reduce wrinkles.

Moisturizing: Jojoba Oil and Sunflower Oil offer excellent moisturization, while Castor Oil soothes sunburn and dry lips.

Even Skin Tone: Ingredients like Orange Peel Extracts and Lemon Peel Extracts help improve skin texture and even out skin tone. 

Protection: Saffron protects against UV radiation, and Vitamin E Oil reduces sun damage.

Skin Brightening: Ingredients like Mulrthi (Liquorice) and 24K Gold Flakes brighten the skin and promote elasticity.

Acne Management: Sunflower Oil, Castor Oil, and Grapeseed Oil efficiently manage acne breakouts.

Natural Cleansing: Lemon Peel Extracts act as a natural cleanser.

Hydration: Aloe Vera and Grapeseed Oil keep the skin hydrated and calm.

This unique blend of ingredients caters to various skincare needs, leaving your skin nourished, rejuvenated, and glowing.
DIRECTIONS:
Directions for 24K Gold Glass Face Oil:

1. Take 2-3 pumps of our 24K Gold glass face oil.
2. Gently massage it onto your face and neck to ensure even distribution.
3. Once absorbed, you can apply sunscreen or continue with your makeup routine.
4. For nighttime use, apply after cleansing and toning.
5. Recommended by top makeup artists for long-lasting radiance in this price range.
Multipurpose Usage:

For Lips:

Apply a generous amount to your lips using your finger.
For Cheeks:

Scoop some product onto your fingertips.
Apply to your cheeks and blend along the cheekbones. Add more layers for a bolder shade.
For Eyelids:

Apply a generous amount to your eyelids with your finger and blend as desired.
GENTLE REMINDER
Put-On Test - For the first time users,
always apply the product over 5cm²
of the skin on the inner elbow. If 24
hours later the skin is normal, and the
product may be used safely.
Caution: Avoid contact with eyes.
If this happens, rinse your eyes thoroughly
with water. In case of allergic reaction
or rash, discontinue the use of the product
and consult a physician.
BENEFITS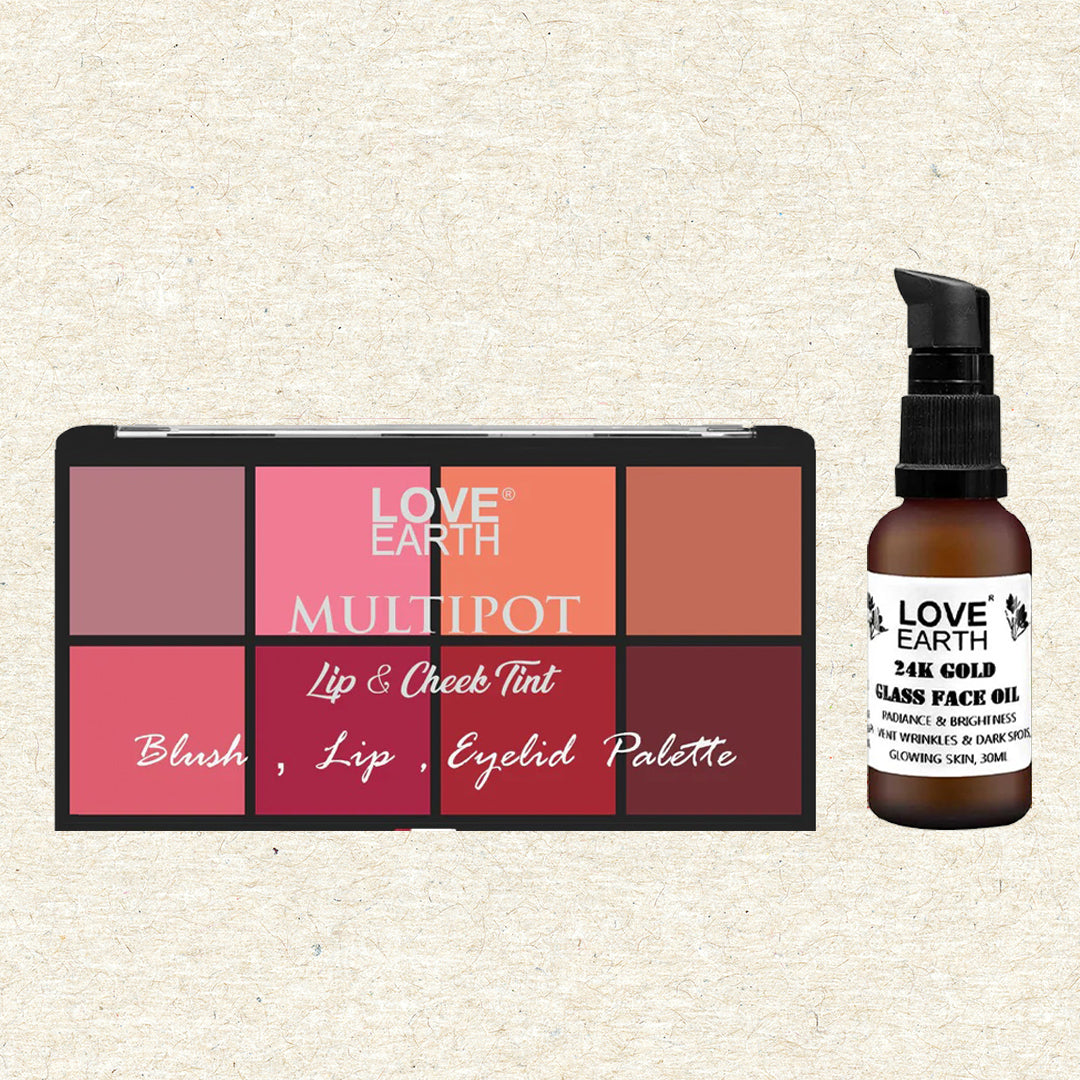 Love Earth 24K Gold Face Oil & Blush , Lips , Eyelid Palette
Sale price

Rs. 959.00
Regular price

Rs. 2,398.00
Choose options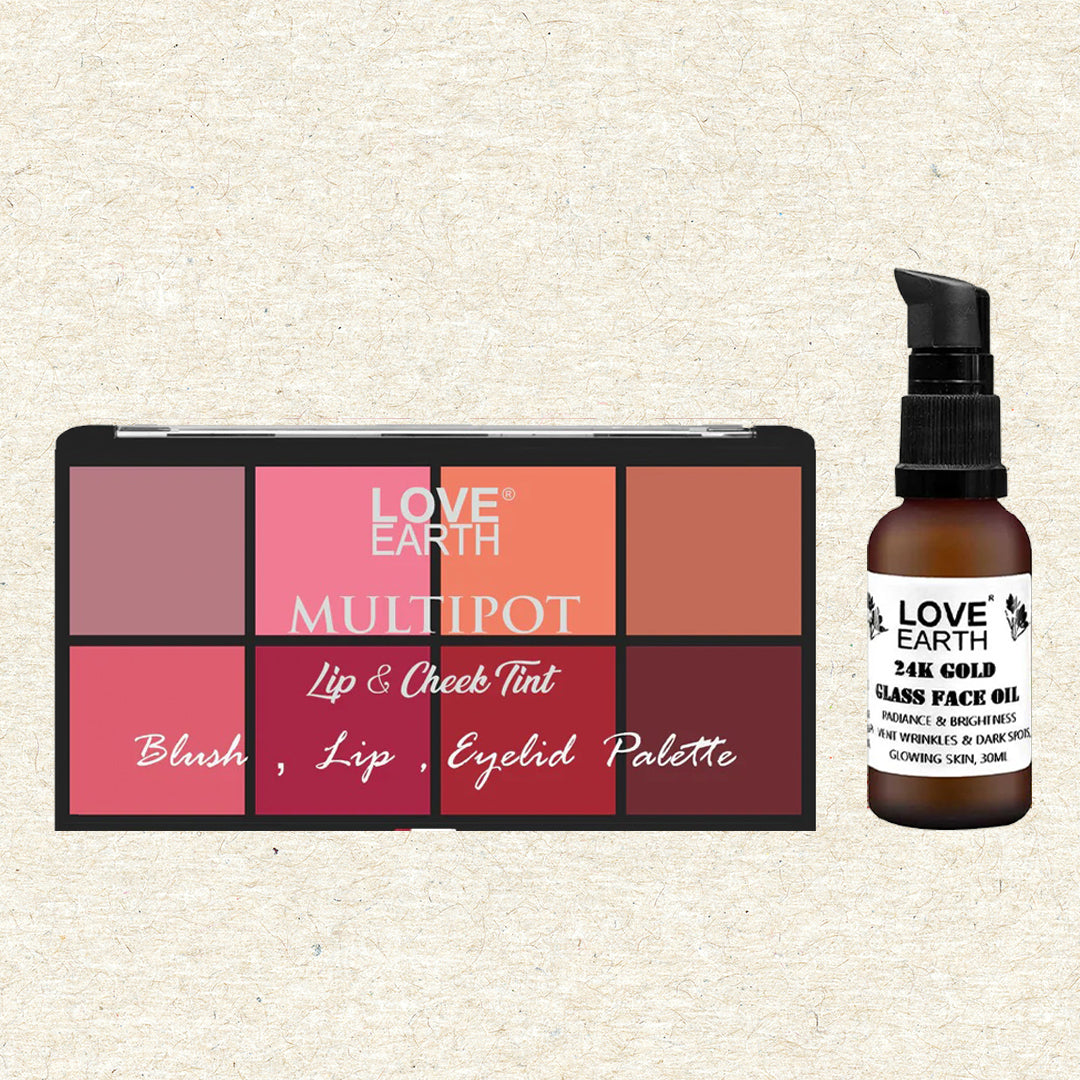 Sale price

Rs. 959.00
Regular price

Rs. 2,398.00
(/)
---
View details