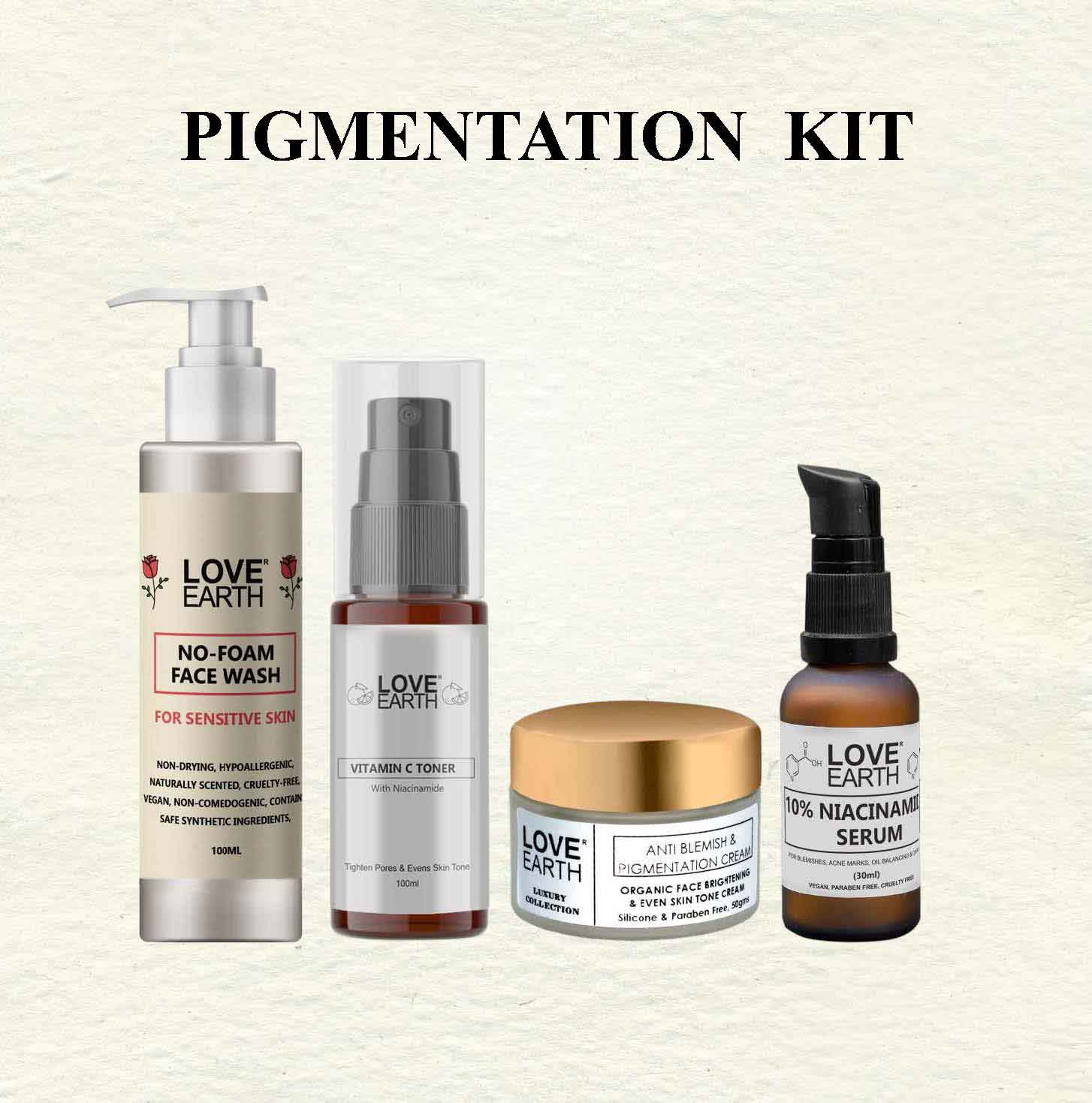 PIGMENTATION KIT
Sale price

Rs. 1,130.00
Regular price

Rs. 1,996.00
(/)
---
LOVE EARTH PIGMENTATION KIT FOR PIGMENTATION & DARK SPOTS REMOVAL ANTI-PIGMENTATION FACE CREAM FOR MEN & WOMEN REMOVE BLEMISHES, ACNE MARKS
DESCRIPTION
NO FOAM FACE WASH -  You may now enjoy clean and healthy skin with our Love Earth No-foam Face Wash. It contains almond oil and vitamin C extracts, which are both beneficial for sensitive skin. This face wash will perform wonders for you if you have normal or sensitive skin. Believe us when we say that you will notice a change after the first wash. A product that looks like a milk moisturizer but works as a face wash without foam to cleanse away all the dirt from within.
VITAMIN C TONER-  Toning, the second step in a skincare regimen, Vitamin C helps remove pollutants and excess oil from the face. Toner helps tighten and cleanse pores from inside, while also preventing the skin from acne and outbreaks. Love Earth Vitamin C face toner features a hydrating recipe and is packed with the benefits of Aloe Vera, Grapefruit, Hydrogenated Castor Oil, and a variety of other helpful components
ANTI BLEMISHES AND PIGMENTATION CREAM- Well hello there, you self-caring DIVA!! We are very happy that you are thinking about our Love Earth Anti-Blemish Anti-Pigmentation cream. It is here to lighten up those blemishes & pigmentation spots. Along with that, it brightens your skin and unclogs pores. 
10% NIACINAMIDE SERUM- The 10% Niacinamide Serum is the best way to get rid of acne scars and reduce the production of sebum. Niacinamide also aids in the reduction of big open pores and the prevention of acne. Less blemishes and better skin texture will come with daily usage. It strengthens the skin's barrier, heals damage from the past, and decreases inflammation, resulting in acne-free skin. Welcome to your new style, which is based on the actual you! For stunningly clean skin, use a 10% Niacinamide level accompanied by Zinc salt in your next snap! It's your skin's best friend, so say hi to the glow!
INGREDIENTS
NO FOAM FACE WASH
Aqua
Glycerin
Edta
Almond (prunus amygdalus dulcis) oil
Seatic acid
Glycerol monostearate
Cetyl alcohol
Vitamin-c (ascorbic acid) oil
vitamin E acetate,
Coconut (cocos nucifera) oil
Glycolic acid
Isododecane
Carbopol 940
Sodium ascorbyl phosphate
Aloe vera (aloe barbadensis) extract
Green tea (camellia sinensis leaf) extract
Iscaguard peg
Sodium hydroxide
VITAMIN C TONER
Aloe vera
Grapefruit
Ethyl Ascorbic Acid
Glycerine
Hydrogenated Castor Oil
Perfume
DM Water
ANTI BLEMISHES AND PIGMENTATION CREAM
AQUA
ALOE VERA EXTRACT
VITAMIN-E
GLYCERIN
XANTHAN GUM
LICORICE EXTRACT
LAJWANTI EXTRACT
GLYCOLIC ACID
KOJIC ACID
FRUIT EXTRACT
OLIVE OIL
ALMOND OIL
ASHWAGANDHA EXTRACT
MANJISHTHA EXTRACT
SODIUM GLUCONATE
MILK PROTEIN
ETHYL HEXYL GLYCERIN AND PHENOXYETHANOL
FRAGRANCE/ESSENTIAL OILS.
10% NIACINAMIDE SERUM
Purified Water
Niacinamide
Propylene
Glycol
Glycerin
Aloe Barbadensis (Aloe Vera) Leaf Extract
Hyaluronic Acid, Zinc PCA
PEG-40 Hydrogenated Castor Oil
Polysorbate 20, Potassium Sorbate
Sodium Benzoate
Allantoin
Caffeine
Fragrance
Olea Europaea (Olive) Leaf Extract
Chlorphenesin
Disodium EDTA
GENTLE REMINDER
Just a friendly reminder, always and always do a patch test before including any new product in your skin. Just like behind your ears to check for any sort of allergy or irritation. But if you don't notice any reaction then the product is good to go and you have finally found a best friend for your skin.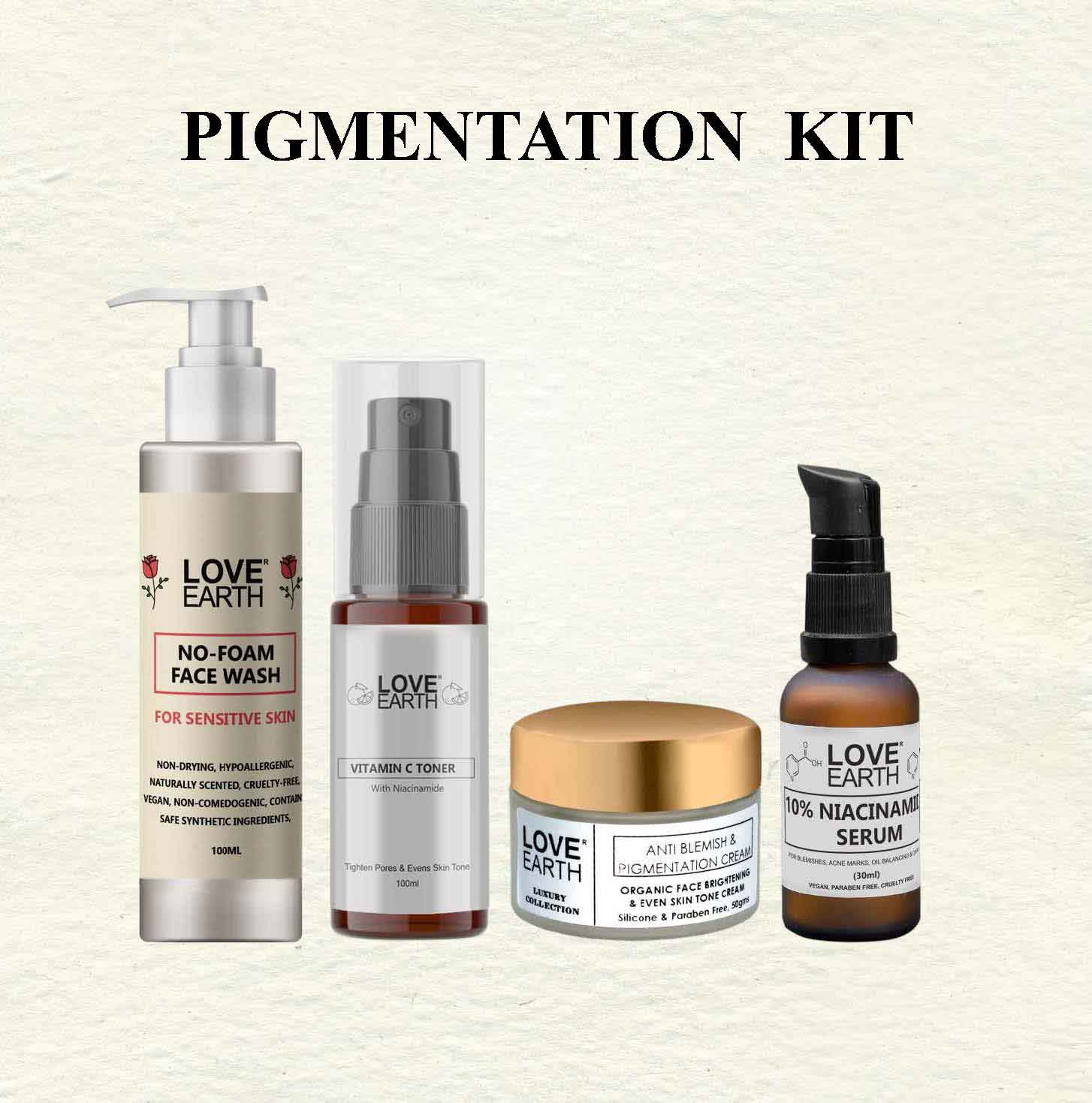 PIGMENTATION KIT
Sale price

Rs. 1,130.00
Regular price

Rs. 1,996.00
Choose options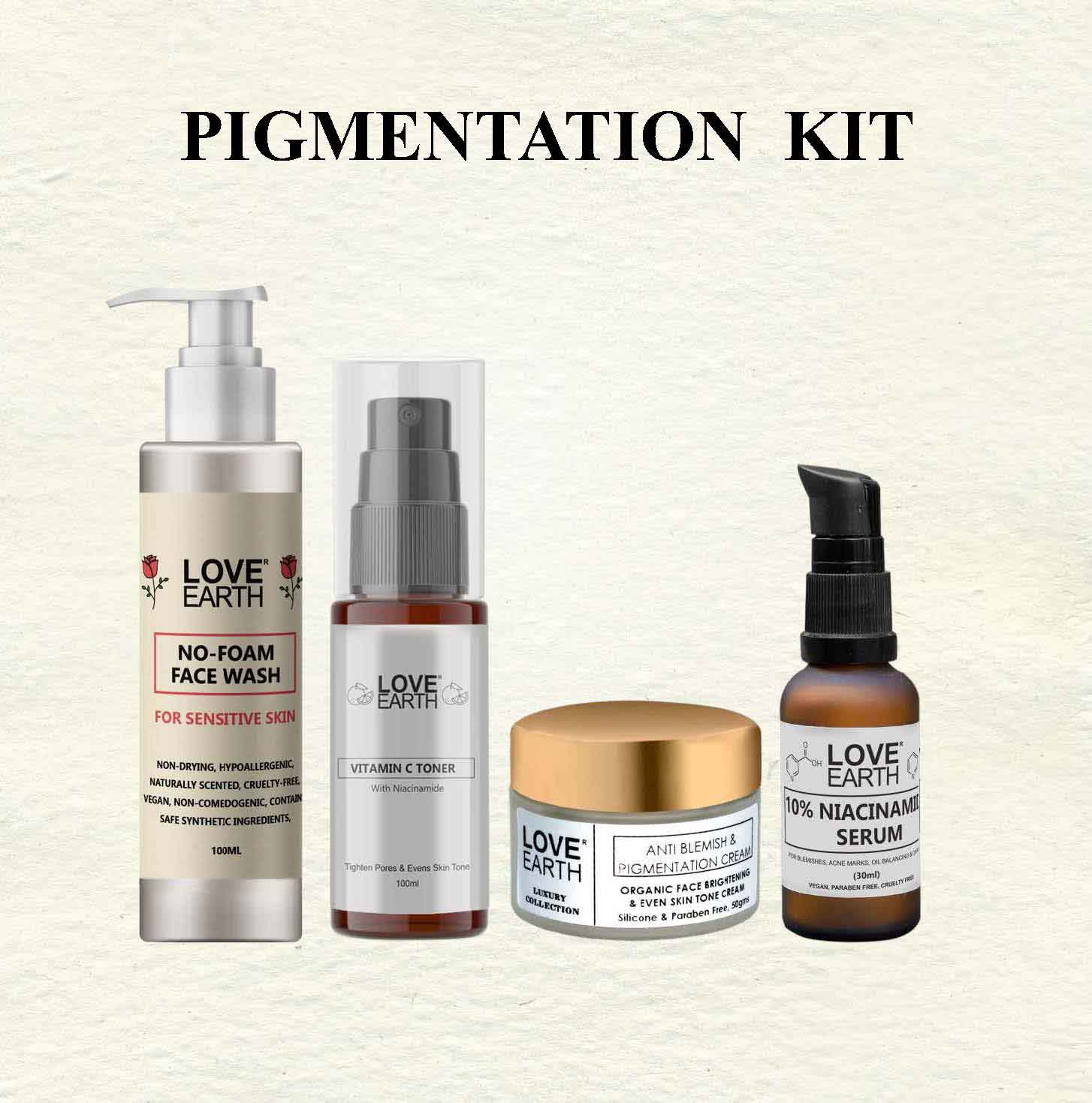 Sale price

Rs. 1,130.00
Regular price

Rs. 1,996.00
(/)
---
View details